N510047260AA Squeegee FOR PANASONIC SP18 350MM
Panasonic filter element KXF0E3RRA00
Panasonic smt machine feeder,
SMT panasonic feeder supplier
Panasonic CM machine feeder
Panasonic stick feeder
ORIGINAL NEW STOCK FOR SALE.
PANASONIC FEEDER PARTS,PANASONIC NOOZLE, PANASONIC FILTER, PANASONIC VAVLE STOCK FOR SALE
Part Number: N510047260AA
MOQ: 1 piece
Quality: original new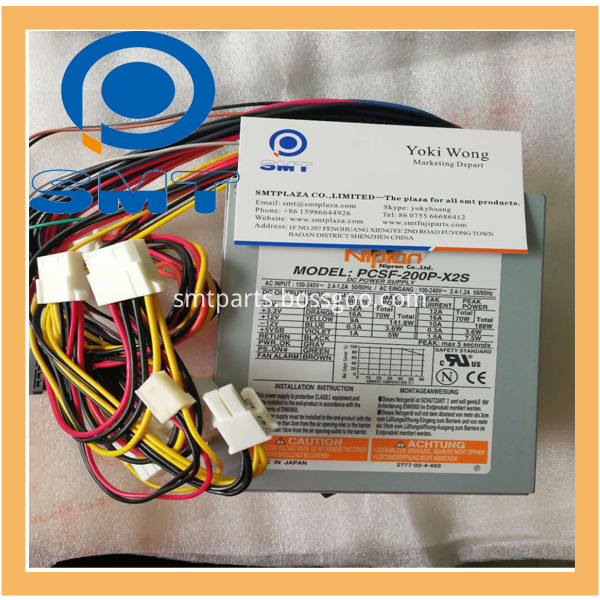 CM402.CM602.NPM.BM221 Sparepart list
85 KXFB00VCA01 SUPPORT PIN 402
86 N610087389AA SUPPORT PIN 402
87 N1F8CC2 BOARD(CC) BM221
88 N1FA964002A LED BOARD BM221
89 N510038350AA LED UNIT BM221, 3994730001
90 108111001801 BM FILTER BM221
91 N510030078AA BM BM221
92 N510023800AA CAMERA BM BM221
93 108620912401 LENS CAMERA BM221
94 N606MRJ2-233 MOTOR DRIVER BM S/Z
95 N641TA4N1530 BELT BM221
96 N641TA4N1595 BELT BM221
97 N641TA4N1715 BELT BM221
98 1086213290 UNDER CAMERA UNIT BM221
99 1086213190 UNDER CAMERA UNIT BM221
100 KXFP6CJAA00 CM402
101 N510016346AA BLACK LIGHT CM402
102 KXFX03WMA00 VALVE ( VQD1151U-5LO)
103 104305971104 HDF 2 NOZZLE
104 104305972104 HDF 4 NOZZLE
105 104687870505 MSR VS NOZZLE
106 104687871004 MSR S NOZZLE 10468S0016
107 10468S0017 MSR VVS NOZZLE
108 N1F86243A VISION BOARD
109 N510056485AA BALL SPLINE
110 N610082541AA COMTROL BOARD 006 BM
111 N610012673AA FEEDER CART BOARD FEEDER
112 N610001944AB CM602
113 KXF0DKSAA01 PLUNGER
114 N610015977AA TOUL PLANE, KXFP63EAA00
115 N610015978AA TOUCL PLANE
116 N510023795AA CM402 MARKER
117 N210013682AB
118 N610002833AA 8MMFEEDER
119 KXF0DXKJA00 CM202
120 N510027476AA Z MOTOR 6W CM602
121 N1SA964003 LED UNIT BM221
122 KXF0DWP0A00 CAM FOLLOWER
123 KXF0DHSAA00 MOTOR TS4502N2227E500
124 FEEDER
125 10807GH811AG NOZZL SA
126 10807GH812AG NOZZL S
127 10807GH813AF NOZZL M
Please do not hesitate to contact us with your part number for SMD FUJI, YAMAHA, JUKI, PANASONIC and SAMSUNG.
We have good source and large ready stock for major brand SMT automotive spare parts. Such as, feeder/feeder parts, nozzle/nozzle holder/nozzle shaft, laser sensor, servo motor, driver, controller board, solenoid valve, ball screw, belt, cable, sensor etc.
SMTPLAZA is one of the SMT solution provider for Global customers,offer Automatic Insertion Machines spare parts, SMT spare parts with feeders, pick up nozzle,feeder parts, motor, PCB board, Laser, feeder calibration etc. for FUJI, YAMAHA, PANASONIC, SIEMENS SIPLACE, SUMSUNG SMT equipments, bother DEK and MPM printer machines spare parts. Large stock with original quality parts,competitive price, confidence with satisfy warranty, to gain good reputation from Globle customers.
Related Products:
1. Fuji Grease Gun
2. Panasonic Grease Gun
3. THK MG70 Grease Gun Unit
4. NSK HGP Grease Gun Unit
5. Yamaha Grease Gun Unit
6. 400G Grease Gun
7. THK, NSK, Panasonic, Yamaha, Kluber Grease, high temperature grease/ oil, etc.
8.SMT Carrier tape producer,High Viscosity AI Splicing Tape,SMD yellow splice tape
Our advantage
A. Various brands available
B. Offer customized service
C. Large stock- more thank 5000 kinds of parts, fast shipping
Packaging & Shipping
Shipping
We ship to Worldwide.
Items are shipped via Fedex, DHL, or UPS, for some country which is not available, will choose EMS TNT or other ways.